| | |
| --- | --- |
| Chicken Tikka Masala with Saag Aloo, medium hot chicken curry and potatoes with spinach | |
Ricetta di AlexH!
Here is a curry recipie that is very popular in Indian restuarants in the UK.

The idea is that the chicken pieces (Tikka) are cooked in the tandoori style (marinaded in yoghurt & spices and then cooked in a very hot oven) and then mixed with a sauce (Masala) made from yoghurt, spices and tomato. I prefer to serve the "Tikka" and the "Masala" separately...

The Saag Aloo is a popular vegetable curry, that makes a good accompanyment to this dish...

(serves around 4 people as a main course)

Ingredients (Chicken Tikka Masala):

800g boneless chicken in pieces (thigh is my favourite but breast is also OK)
300ml Natural Yoghurt
1 onion
1 or 2 garlic cloves
piece of fresh ginger
1 or 2 red chillies (an Indian type like the Kashmiri Mirch would be prefect but I haven't got any so I am using Cayenne)
Squeeze of lime juice

Spices (you can see the quantities in the picture!) :
Black Pepper
Cloves
Cumin
Corriander seeds
Cardamom pods (remove the outer skins)
Cinnamon
Tumeric
...I am also adding some Chilli powder and Paprika.

about 200ml of passata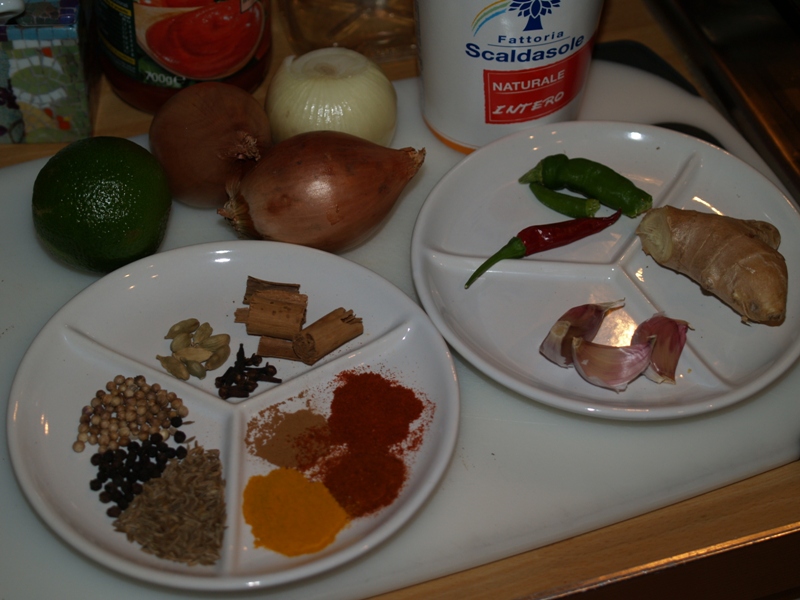 The spices can either be whole or already in powder. If you are using whole ones "toast" them in a hot dry pan and then grind them up...


Chop the onion, garlic, ginger and fresh chilli small and put in a food processor with the yoghurt & lime. Blend until quite smooth. Add all the spices and mix together. Add to the chicken and leave to marinade for at least an hour.


Then thread the chicken onto skewers and put them over a dish, so that they are not in contact with the bottom or sides (this is the closest you can get at home to using a proper "tandoor" oven). They need to be cooked in a very hot oven (250C or higher).


The rest of the marinade can then be "cooked" in a pan with the passata to make the "masala" while the chicken is cooking in the oven.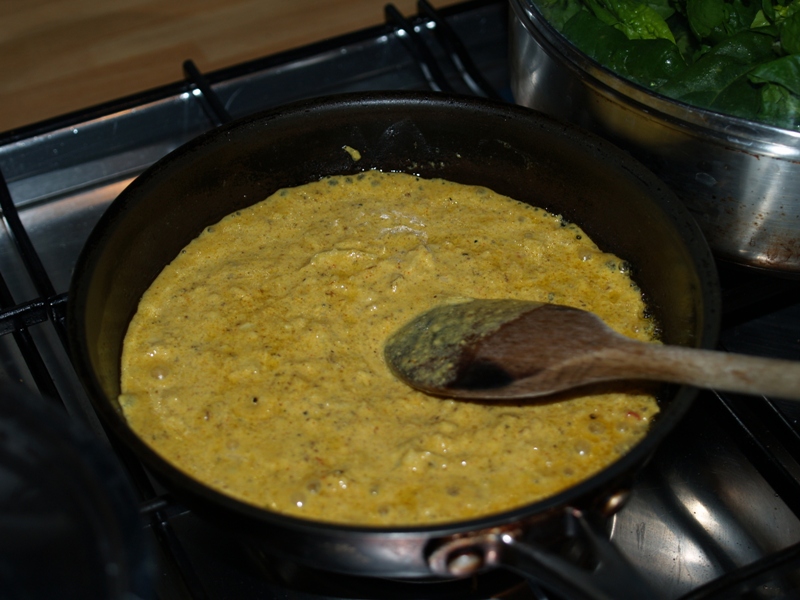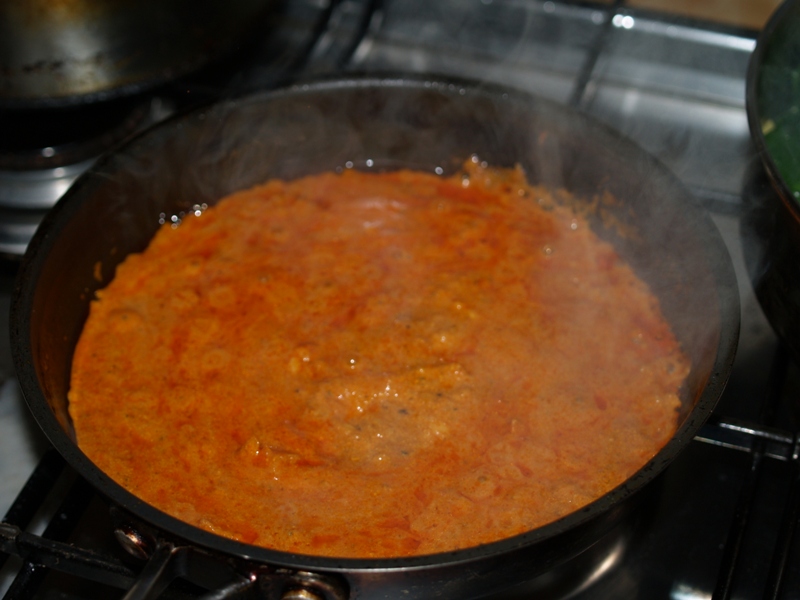 Ingredients (Saag Aloo):

3 or 4 medium potatoes (in cubes)
about 200/300g fresh spinach
1 onion (finely chopped)
1 garlic clove (finely chopped)
1 or 2 green chillis (finely chopped)

Spices:
Tumeric
powdered ginger
black mustard seed
cumin seed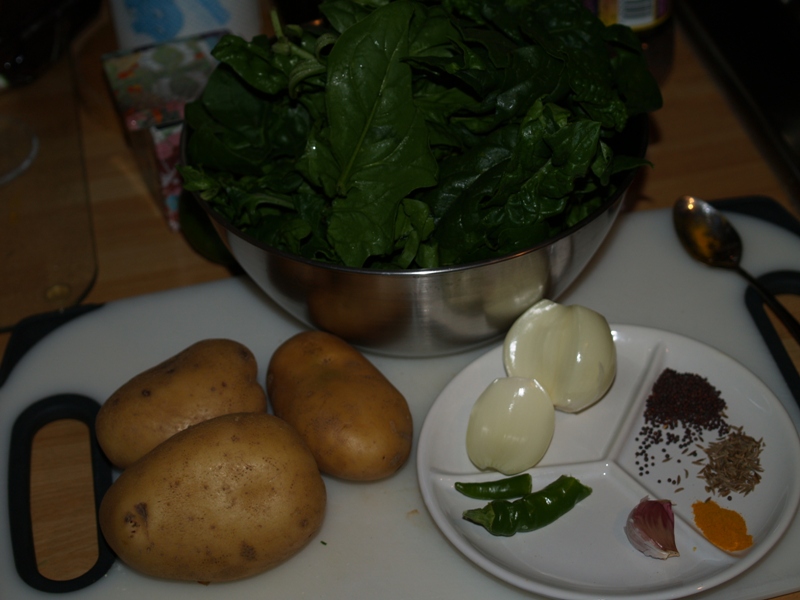 Fry the mustard & cumin seeds in some neutral oil, then add the onions, garlic and chilli and fry for a few minutes. Then add the potatoes and powdered spices, fry for a few minutes more and add a little water. Cover the pan and turn the heat down. Leave to cook for about 15 mins until the potatoes begin to soften. Then add the Spinach and cook for another 5 minutes or so...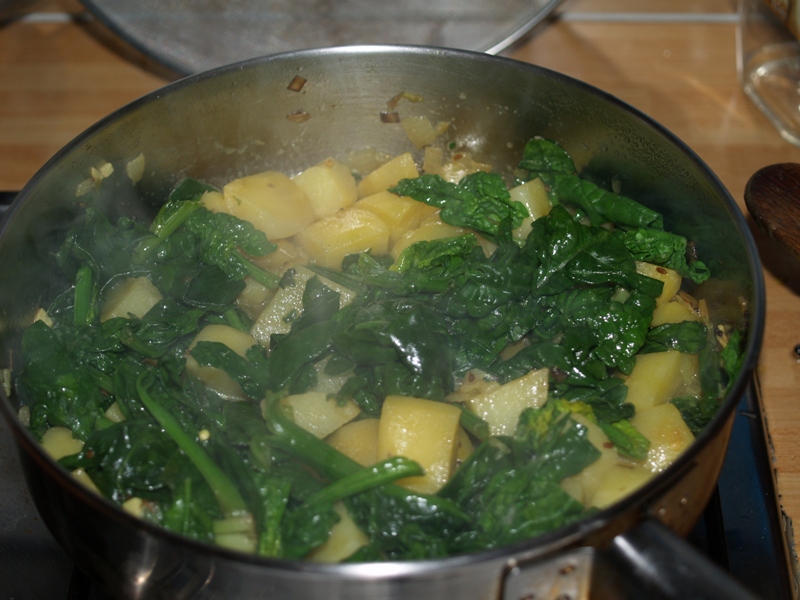 Serve it all with rice and some lime wedges for the chicken.