| | |
| --- | --- |
| Chicken Enchiladas | |
AlexH!
...This is my version of Chicken Enchiladas... it's probably not the most authentic recipe, but uses ingredients you can find easily in Italy...

Ingredients (for 4 people)

Pack of 8 corn tortillas
1 small cooked chicken, shredded
1 red pepper (or a red New Mexican pepper would be even better!)
1 or 2 chilles (serranos would be good, but I used cayenne)
1 onion (chopped fine)
1 clove of garlic (chopped fine)
1/2 tin tomatoes
squeeze of lime juice (or lemon is OK)
1/2 teaspoon crished cumin seeds (optional)
small bunch of fresh parsley (or coriander leaves) chopped
1/2 cup of grated cheese (I used a mature "Caciocavallo")



Blister the red pepper over a flame and then wrap in foil or put in a paper bag to remove the skin. The chop into small cubes.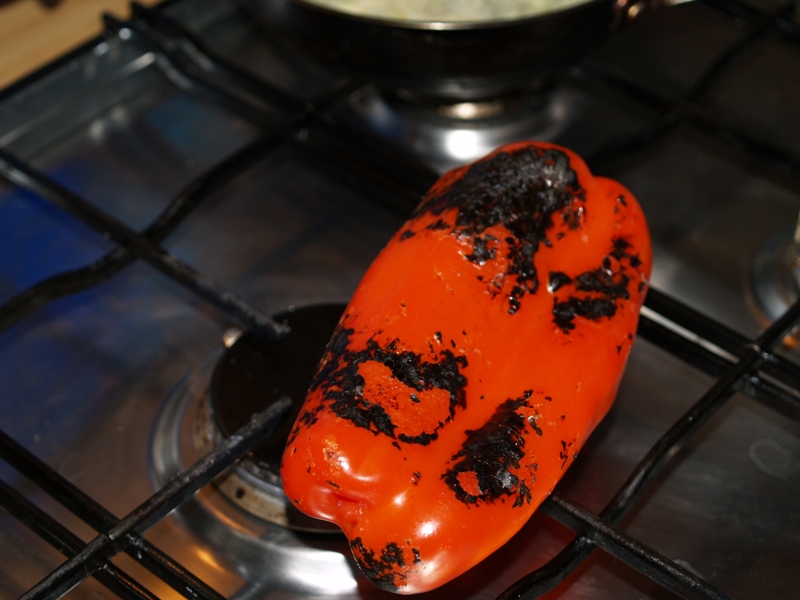 Fry the onion and garlic in oil until soft. Add the chopped pepper & chilli.



Fry for a few minutes more then add the tomato, cumin and a squeeze of lime juice. Let it simmer for about 15 minutes, then stir in the fresh herbs. (meanwhile you can make the frijoles and guacamole).



When the sauce is ready... warm the tortillas gently in a frying pan (no oil) to make them soft. pur a spoon of sauce and some chicken in each and roll them up to make parcels. Put them in an oven proof dish and then spread the rest of the suace and cheese on top. Put them in a hot oven or under a medium grill for about 5 minutes to melt the cheese.



Serve with frijoles (mashed beans), Iceberg lettuce & guacamole